For an average homeowner, bathroom remodeling costs would range from $7,000 to 17,000, with an average price of $12,000. If you choose to use high-end materials, or change your layout, then you can expect to pay more.
If you are thinking of doing a bathroom remodel, one of the first things that you will certainly consider is bathroom remodel cost. Knowing what you can expect the cost to remodel a bathroom to be will help you plan a bathroom remodeling in a budget and make sure that you can afford it before you start the work. 
Bathroom renovation costs can vary a lot depending on the scope and size of your project, so you should try to get an idea of what sorts of improvements you are hoping to make to the master bathroom remodels, before trying to estimate your total remodeling budget and total project cost by yourself. If you are working with some great bathroom remodelers, they will also provide you with an estimate for material costs and labor costs for your project before you start any work.
To help you get a preliminary bathroom remodel cost, we have created this article with some of the parts of a bathroom remodel and their costs. This way you can go beyond just getting the average cost to remodel a bathroom, you can use this guide to make a more accurate guess of what your specific project will cost. 
Bathroom Remodel Cost Breakdown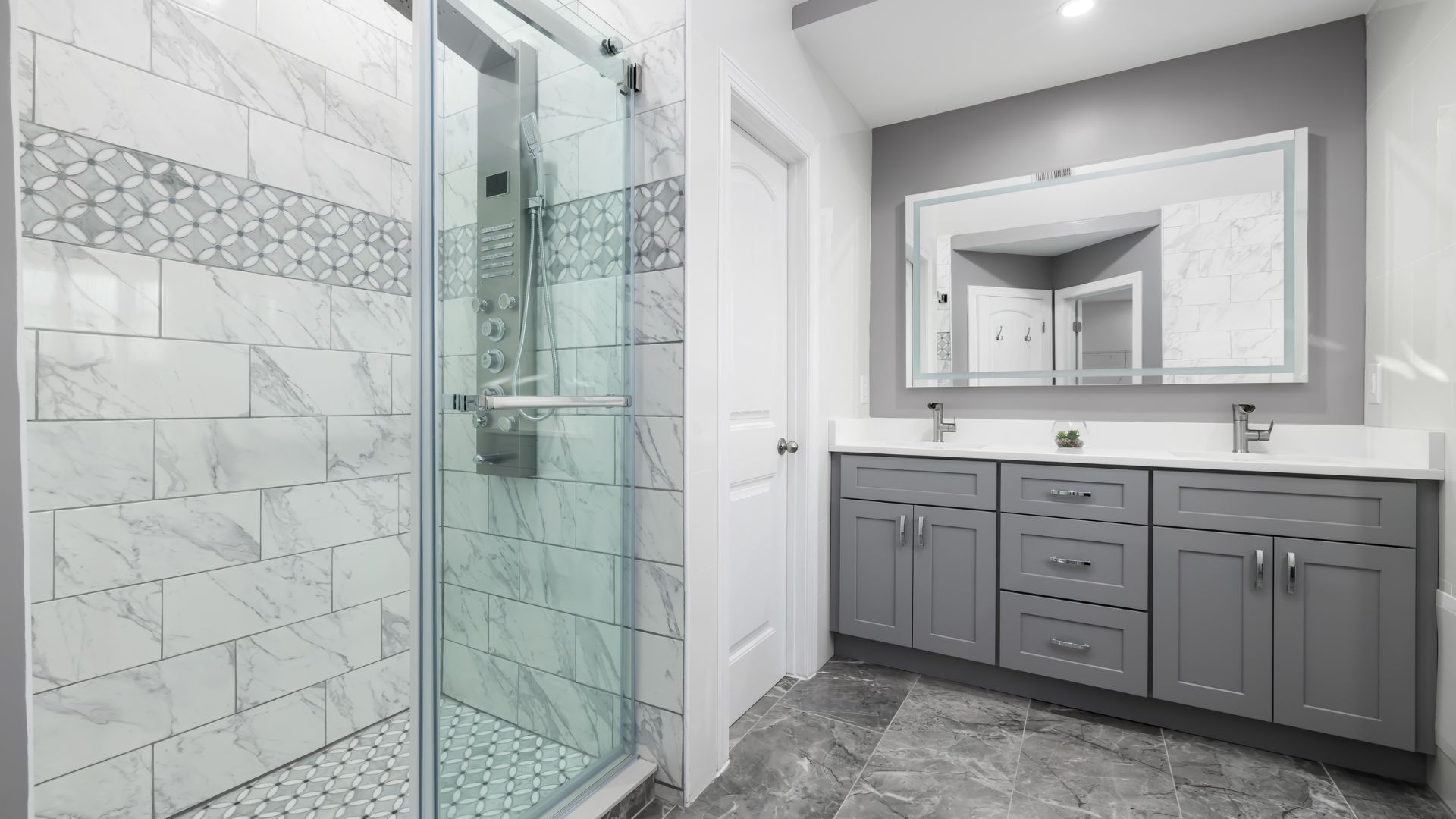 According to Angi and HomeAdvisor, the average range of bathroom remodeling projects' costs is from $6,596 up to $16,369. This is a pretty big range of prices per total bathroom remodeling cost budget, so you will probably want to go a bit deeper and find out what each part of a full bathroom remodel costs, really costs.
The average price of a bathroom remodel in 2023 starts from $7,000. This is for one day bathroom remodel and an all-bathroom remodel range. Average size primary bathroom and bath remodel in ranges is in a medium-cost-of-living area. You can adjust the above-average bathroom remodel price to the size of your primary bathroom remodel, and the cost of living where you live for a more accurate, basic estimate.
It might be more helpful for you to look at the bathroom remodel price per square foot. For a typical bathroom remodel, most homeowners end up paying $125 per square foot. 
If you want to apply this to your bathroom, find the square foot of your bathroom by measuring its length and width and then multiplying those numbers. It may be easier to measure in total inches, find the square inches then divide that number by twelve to get the square feet. 
Once you have the square feet, simply multiply it by $125 to get an estimate of your bathroom remodel cost. For a 10 x 10 bathroom, the square feet is 100, multiply 100 by $125 and you get $12,500 for a total bathroom remodel cost estimate. 
Bath Tub and Shower Installation
At some point, a bathtub or shower will simply need to be replaced, either because it is worn out or because the style is wrong. Putting in a new shower costs from $450 to $2,000 for a low-cost model. A mid-range shower will be a total cost of $3,000 to $4,800 and a higher-end shower could cost from $6,000 to $10,000.
If you want to have a new bathtub installed the prices will be $400 to $1,500 on the low end, $4,100 to $5,000 for a mid-range half bathtub, and $6,000 to $8,000 for a high-end bathtub. If you want to just refinish your existing half bath-tub the price could range from $500 to $650 for a professional refinish and there are also DIY kits for as little as $25.
Bathroom Cabinet Installation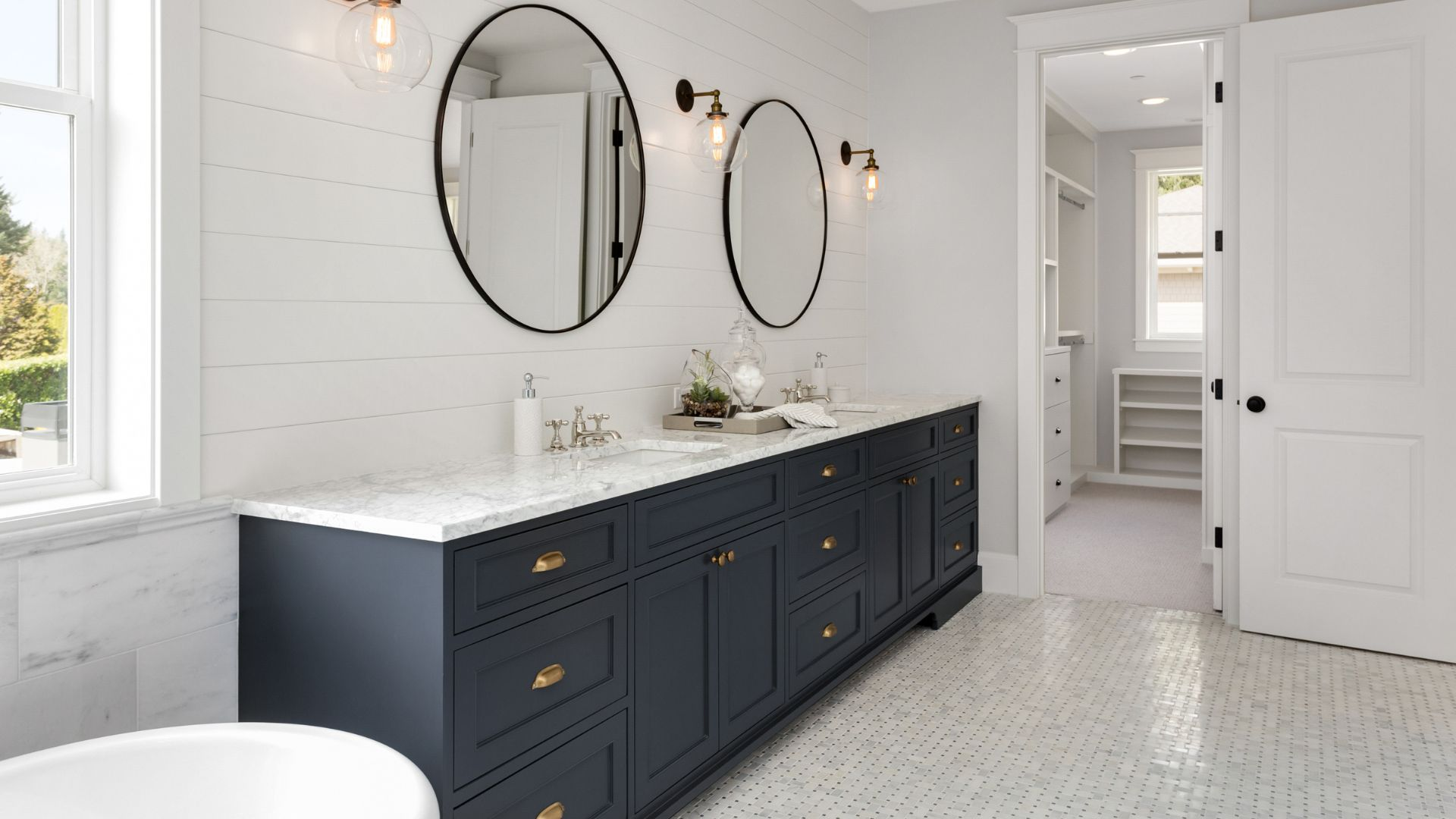 Stylish full bathroom vanity cabinets are a necessity for storing things like towels, toilet paper, and extra soap. On the low end, you can expect to pay $1,200 to $3,500, for mid-range cabinets you can pay from $4,700 to $7,000 while for high-end full bathroom vanity cabinets, they might cost from $8,000 to $13,000.
Getting good cabinets in the powder room and the new guest bathroom can really pay off as they can help you to have more space to store the things that you need. Custom-built powder room and bathroom cabinets can help you to maximize the space that you have in the first bathroom floor powder room and the guest bathroom so that you can store the things you need without taking up too much space.
Bathroom Floor Installation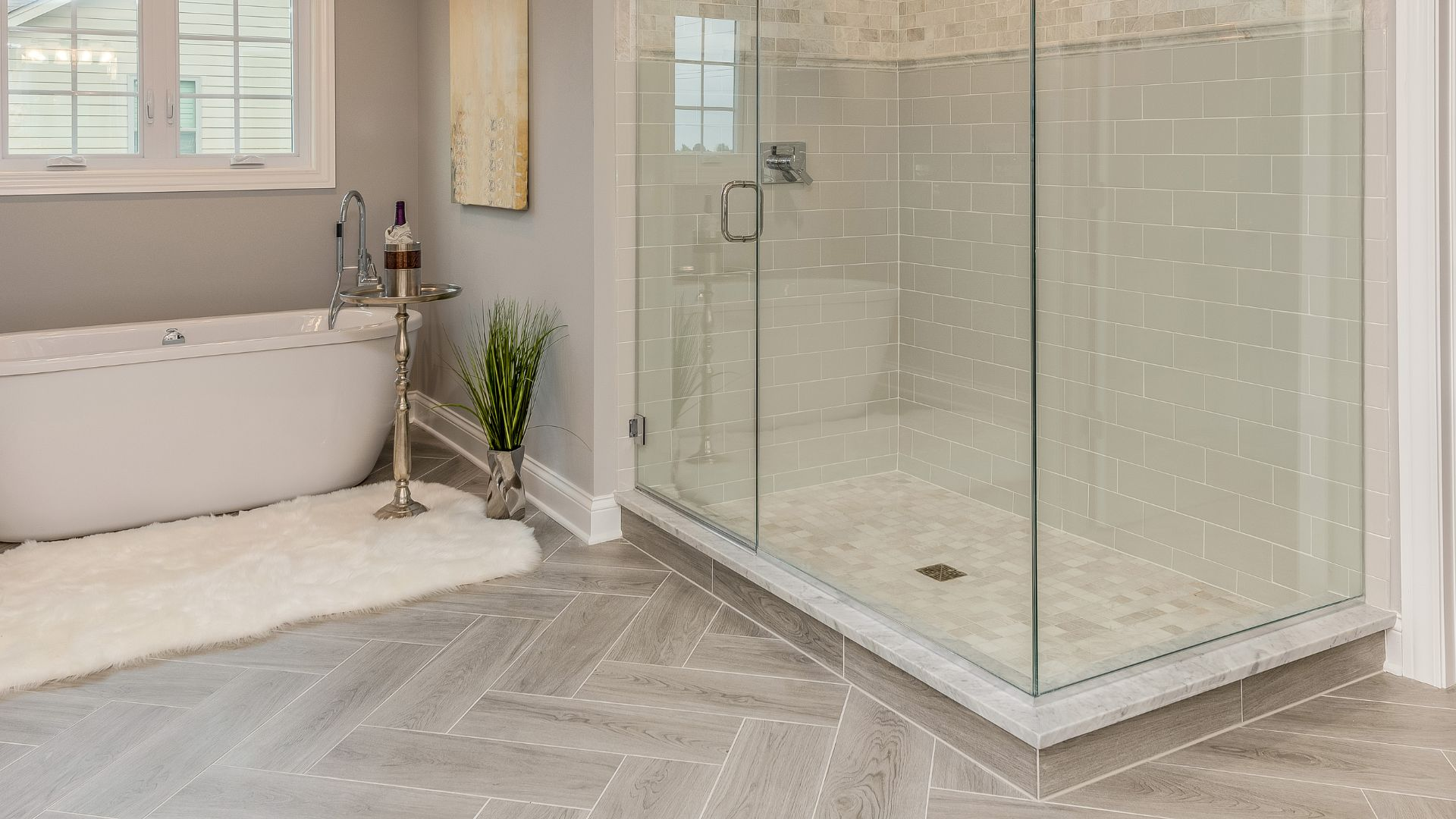 The floors are a critical part of a bathroom because they need to be installed correctly so that none of the moisture that is inevitable in a bathroom can penetrate and damage the home's structure. For a low-range flooring installation such as a laminate sheet, you can expect to pay from $800 to $2,000. 
The tile floor of a mid-range quality floor plan like ceramic can cost from $2,500 per hundred square feet of footage to $3,600 per square foot to have installed. High-end flooring like real or natural stone tiles can cost from $5,000 per square foot to $7,000 per square foot.
New Lighting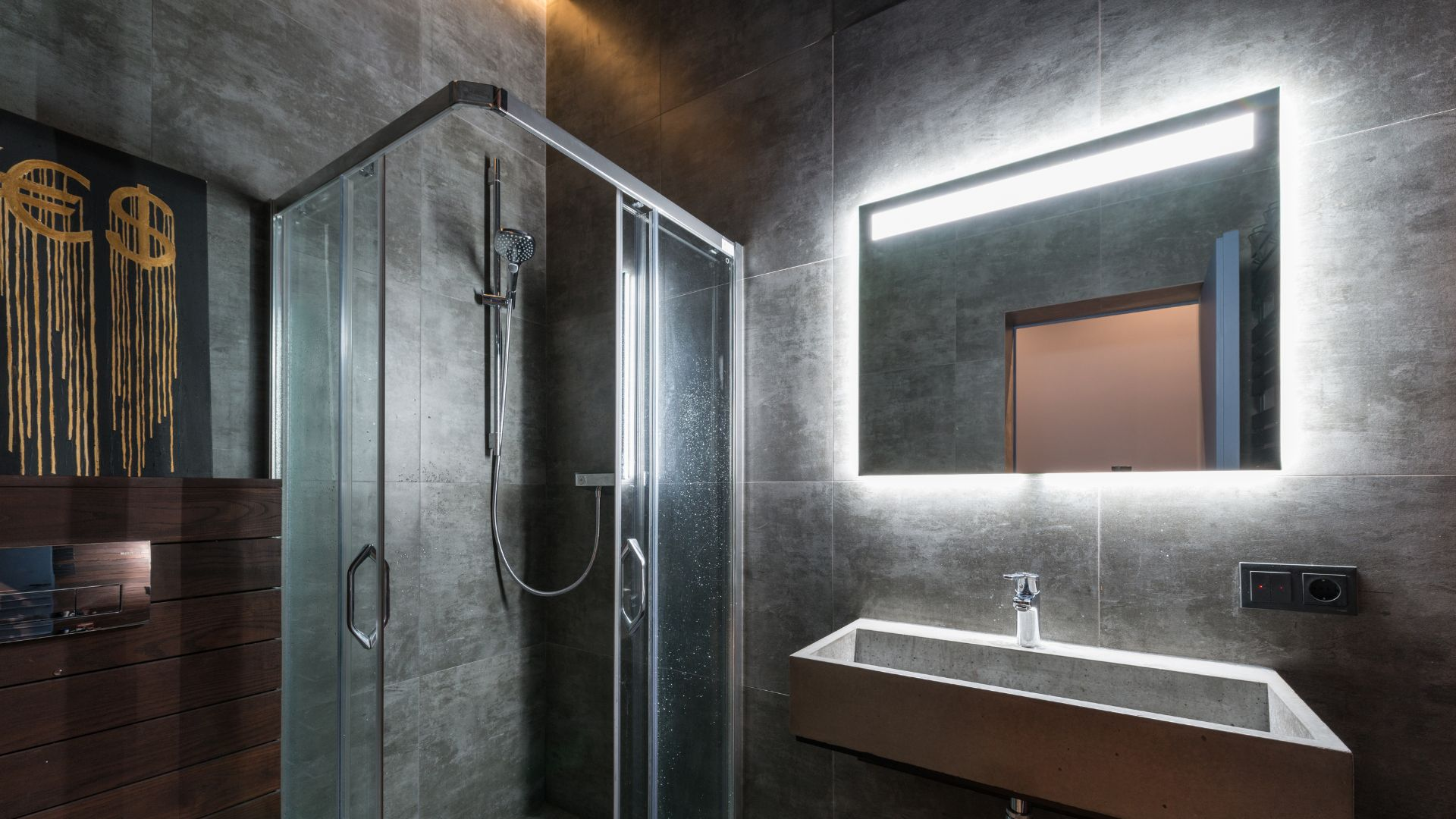 Having the right lighting in your bathroom will make getting ready for your day or a night out on the town much easier. One very popular type of lighting right now behind glass shower doors is the medicine cabinet lighting, which sort of makes it seem like the medicine cabinet is floating and casts a great light without shadows.
 For a basic lighting fixture installation you can expect to pay about $120 to $190. The mid-range lighting fixture might set you back $1,100 to $1,700. For a high-end light fixture installation you can expect to pay $2,500 to $4,000.
New Sink
The sink is pretty obviously a key feature of a bathroom update. You have some options when it comes to sink style, you can choose a pedestal sink with double sinks or double vanity one, which looks elegant but doesn't offer any storage, or you could choose to install a double vanity one with double sinks, which offers lots of storage but some people might find them too bulky.
For a simple bathroom sink installation you can pay from $190 to $900, for the master bathroom with a mid-range sink you can pay from $1,400 to $2,500 and for a bathroom renovations with a high-end sink like a double sink with vanity you can pay from $3,500 to $4,500.
Toilet Installation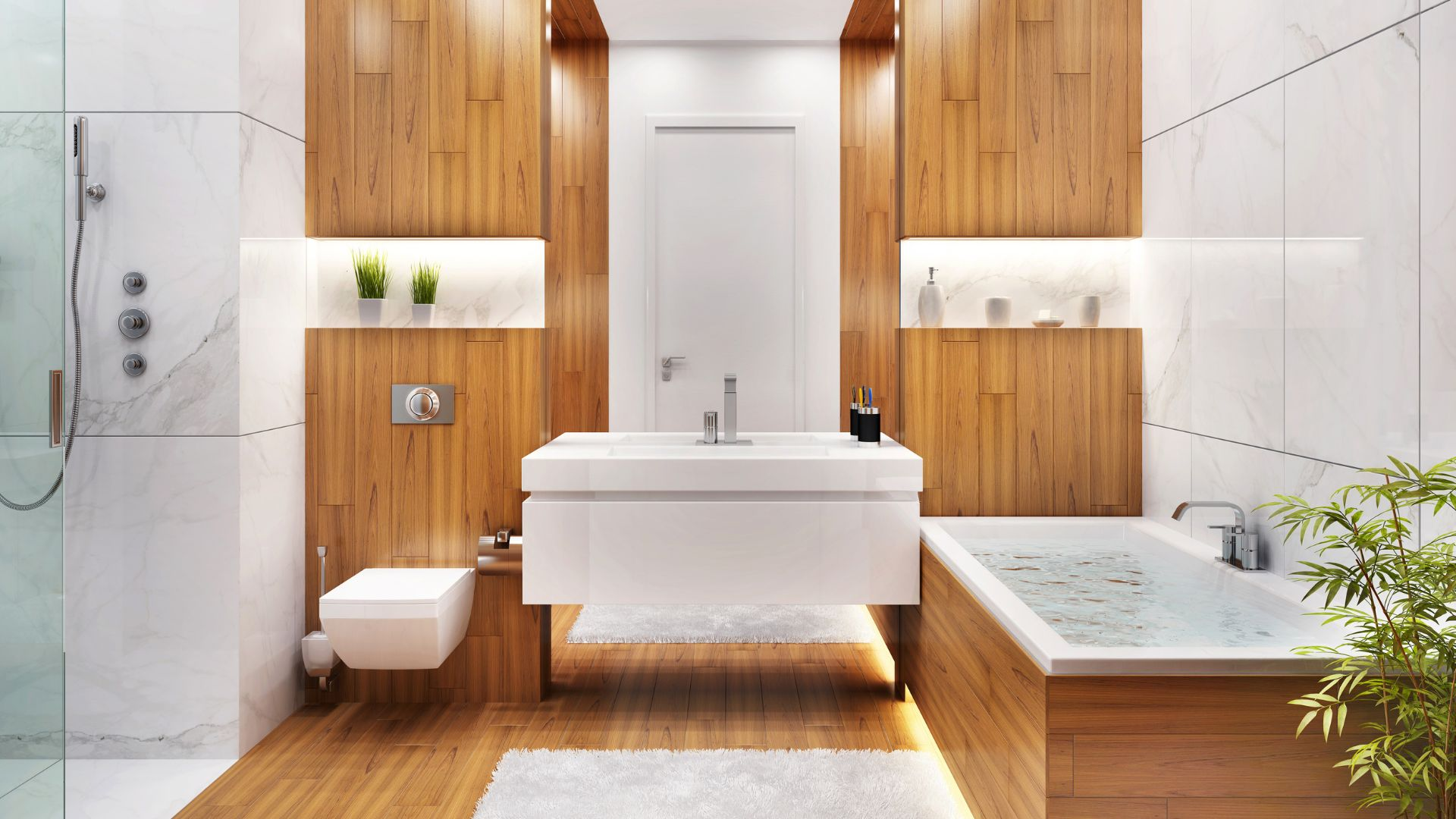 Now is a great time to be upgrading toilets as there are finally some innovations in this area that can save money and are becoming more widely available. You can go with wall-mounted toilets, which save money and a lot of space in the master bathroom, a new toilet streamlined designed toilet which is much easier to clean than the standard toilet, or even a high-tech self-cleaning toilet with a bidet.
For a basic toilet, you can expect to pay $130 to $250 for the installation. A mid-range toilet will cost about $340 to $480. For a luxury toilet, you can expect to pay $550 to $780. 
Factors That Affect the Cost of a Bathroom Remodel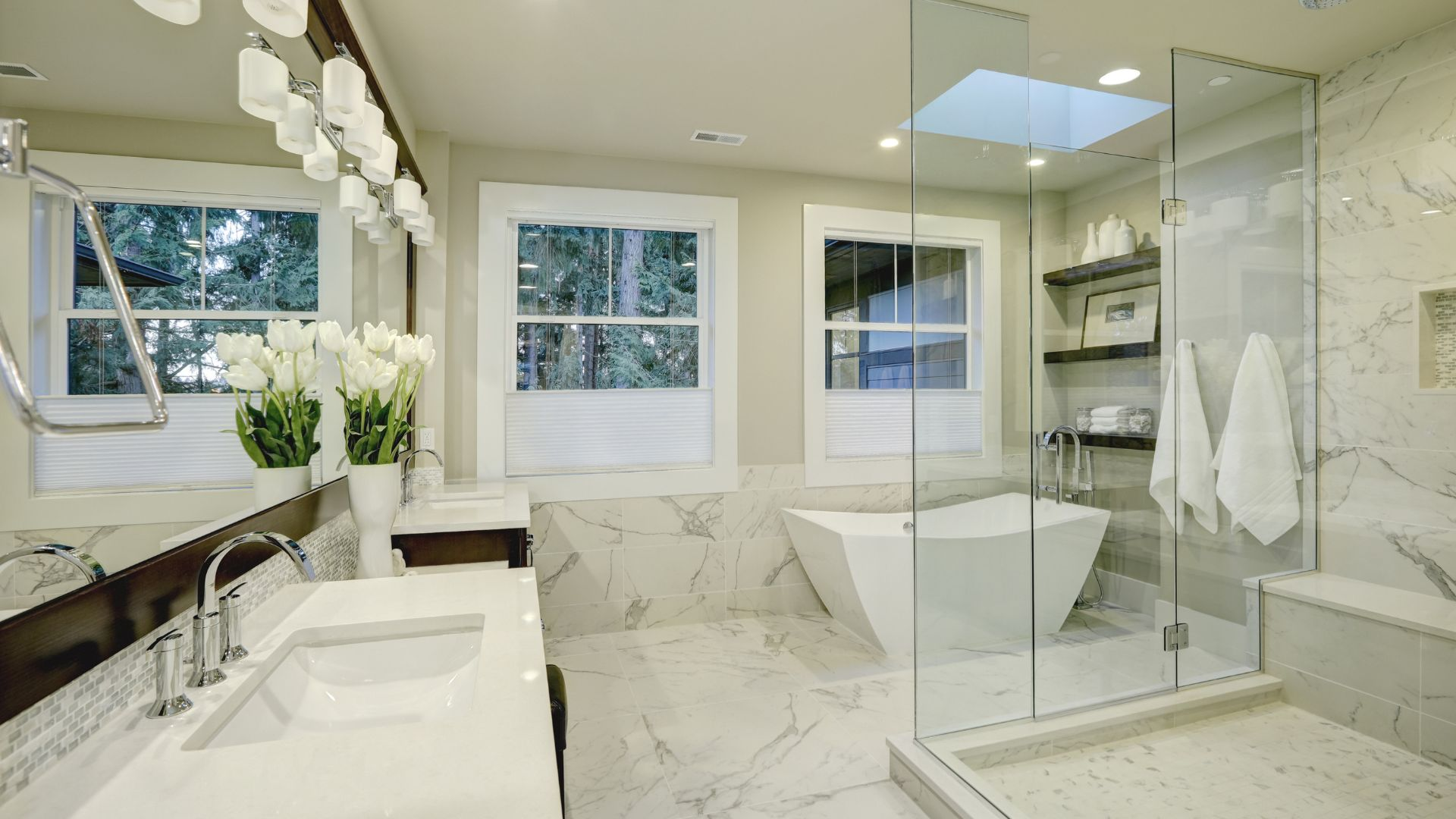 When it comes to bathroom remodeling costs, there are several factors that can impact your total remodeling budget. The size and scope of your project will be one major factor in determining the total cost of a one-day bathroom remodel. For instance, a full bathroom remodel that involves gutting everything down to the studs and starting from scratch is likely going to cost more than a minor DIY bathroom renovation.
Another important consideration when estimating bathroom remodel costs is whether you plan on including features like walk-in showers or other high-end fixtures. These types of customizations can significantly increase expenses due to added labor and other material costs and expense required for installation.
Additionally, the location may also affect pricing as local market conditions for home improvement services vary throughout different regions across America — with some cities being more expensive than others depending on supply and demand fluctuations over time.
Other potential contributors affecting average bathroom remodeling costs might include design choices (i.e. color scheme), plumbing upgrades or replacement components such as flooring tiles; electrical installations needed if you're adding light switches, fixtures, and accessories into renovated spaces within bathrooms too!
Ultimately though every homeowner's requirements differ so get multiple quotes upfront so you'll have realistic estimates about what type & style changes meet desired goals without risking breaking the bank!
Bathroom Remodel Labor Costs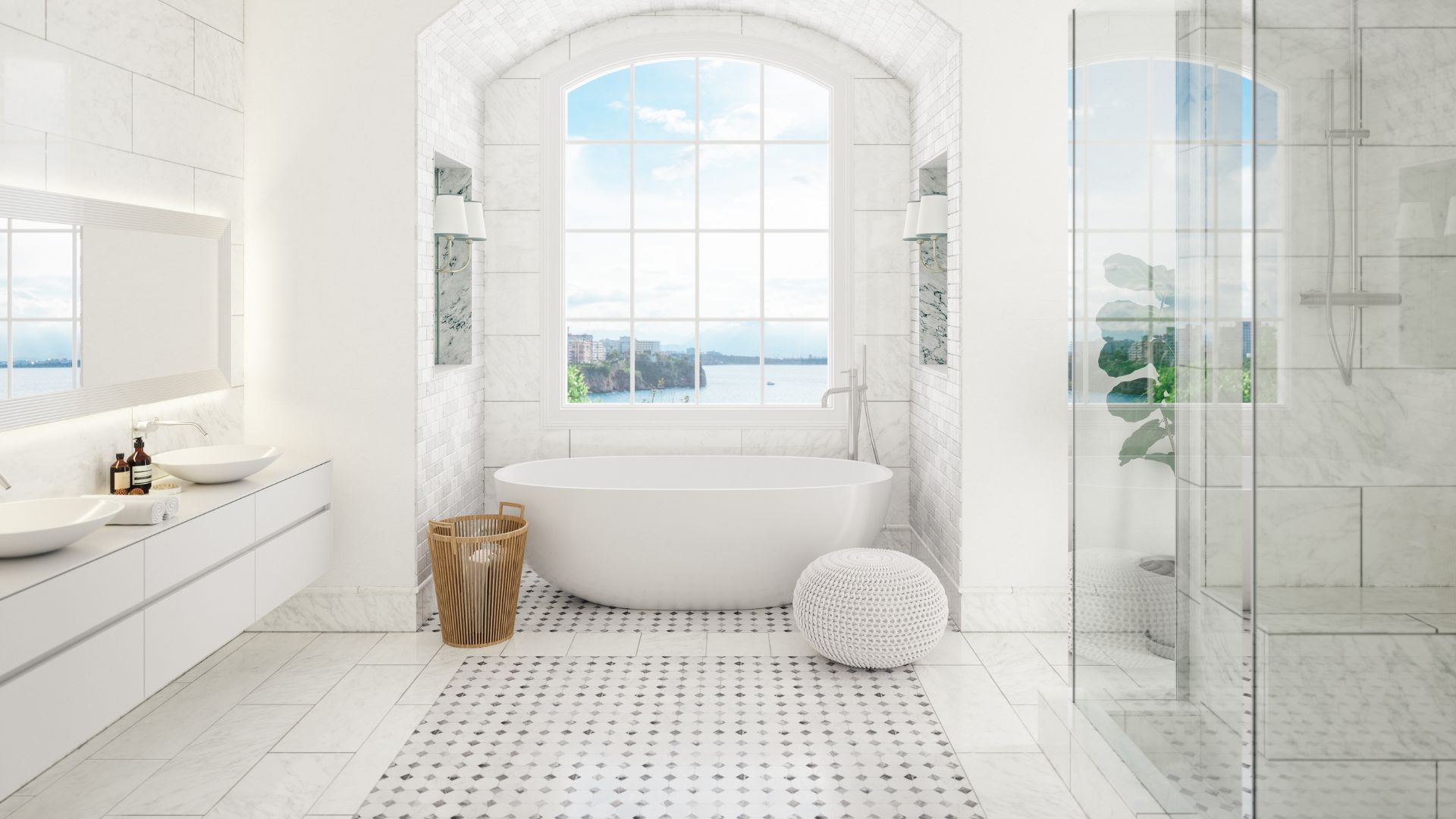 When it comes to estimating the total cost of your master bathroom and remodel, understanding and factoring in your labor costs is crucial. Your remodeled bathroom design might be sleek and modern or traditional with an updated twist, but regardless of style preference; conducting your master bathroom and renovations still requires a skilled team.
Depending on what type of bathroom remodels of renovation you are contemplating like converting the glass shower door from the master into glass shower door into a spa-like paradise via the one-day remodeled bathroom and bath upgrades, customizing faucets fitting according to the existing layout would require sheer craftsmanship. The average time required for remodeling a standard-sized (5 ft by 7ft) bathroom may span from two weeks up to eight depending upon the work scope.
To get an accurate estimate of how much labor will run during your remodel project contact professionals recommended by the National Kitchen and Bath Association who abide by safety protocols while executing workmanship till completion.
Typically there may not exist universal charges as different states have their respective conditions such as rates fluctuating due to seasonality or locally available workforce size. Moisture-prone regions must use specialized materials resilient against splitting which makes the overall pay scale vary among crew members doing plumbing, and electrical jobs compared to just installing new toilets, and new bathroom and vanity fittings requiring precise trips, hazard assessment resources change per region.
Bathroom Remodel Material Cost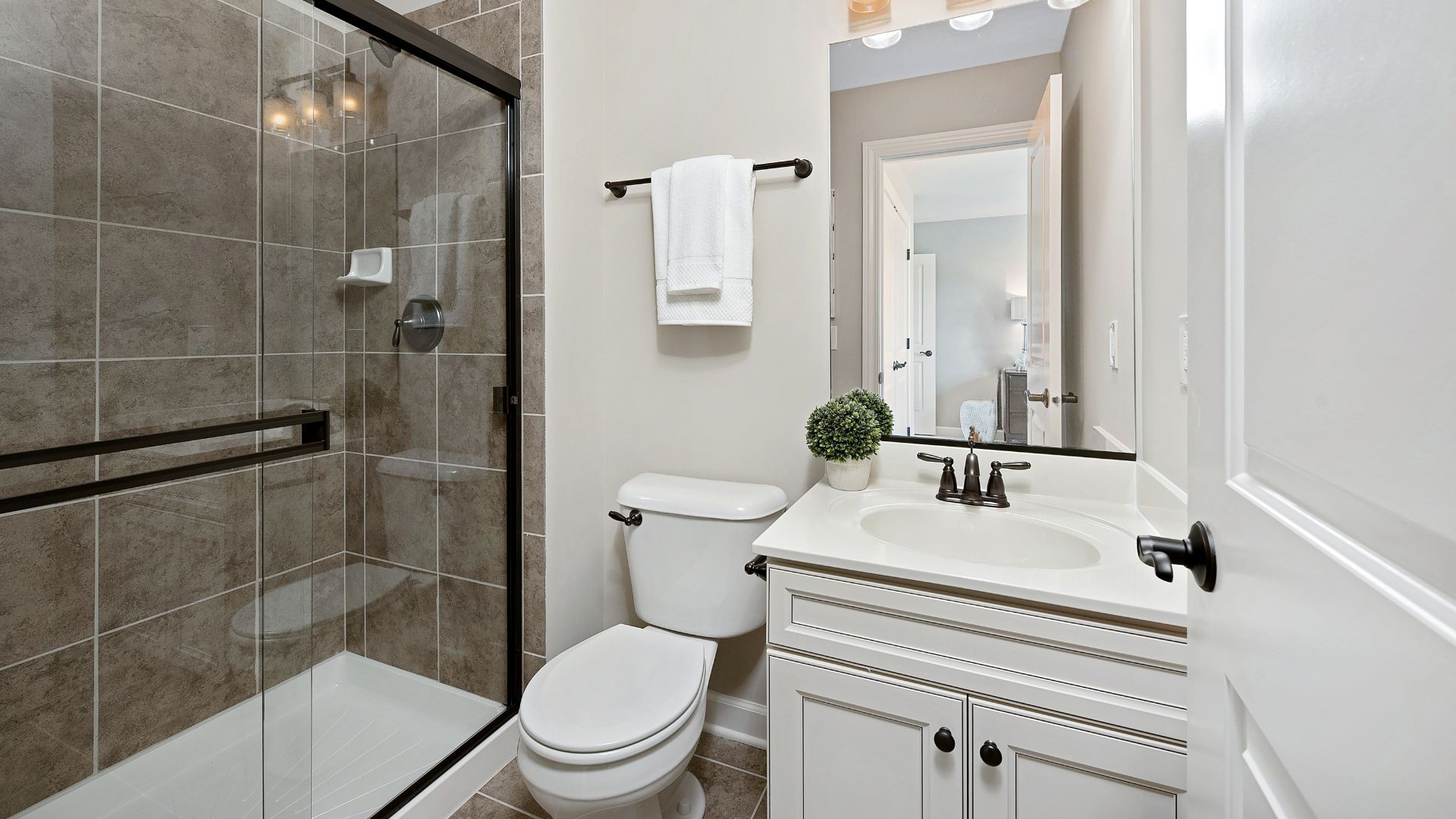 When it comes to the costs of small bathroom remodeling, the price of materials is a significant factor that should not be overlooked. There are various materials needed for a complete full bathroom remodel or a bathroom renovation itself, including tiles, shower systems, vanities, lighting fixtures, and paint or wallpaper for walls.
Tile options can range from high-end natural stone to budget-friendly porcelain. The National Kitchen and Bath Association recommends spending around 10-15% of your overall budget on tile installations. Similarly considering shower systems that include hardware like faucets & wall panels may vary in price as well depending on the products you choose.
Vanity cabinets generally take up most part of one's small bathroom remodel expenses. You can choose from custom cabinetry, semi-custom ones, or pre-built models available at home stores. While Custom choices provide the liberty to design everything according to needs while semi-custom variations involve choosing cabinet sizes, styles, and finishing options.
Lighting fixtures also provide flexibility in terms of prices. Depending on fixture style and modern recessed lights versus traditional dual sconces with chrome finish will influence overall pricing too. You could even adjust lighting surroundings by adding dimmers since they tend to alter interior ambiance as well as illuminate the room better.
Lastly when it comes down to painting, and wallpapers it's an additional aspect homeowners would have some control over how much they want to spend here. All these factors considered it becomes paramount that each step makes sense towards creating the best possible outcome within given budgetary constraints but don't opt out of low quality simply because savings were a priority earlier!
What are the most expensive parts of a bathroom remodel?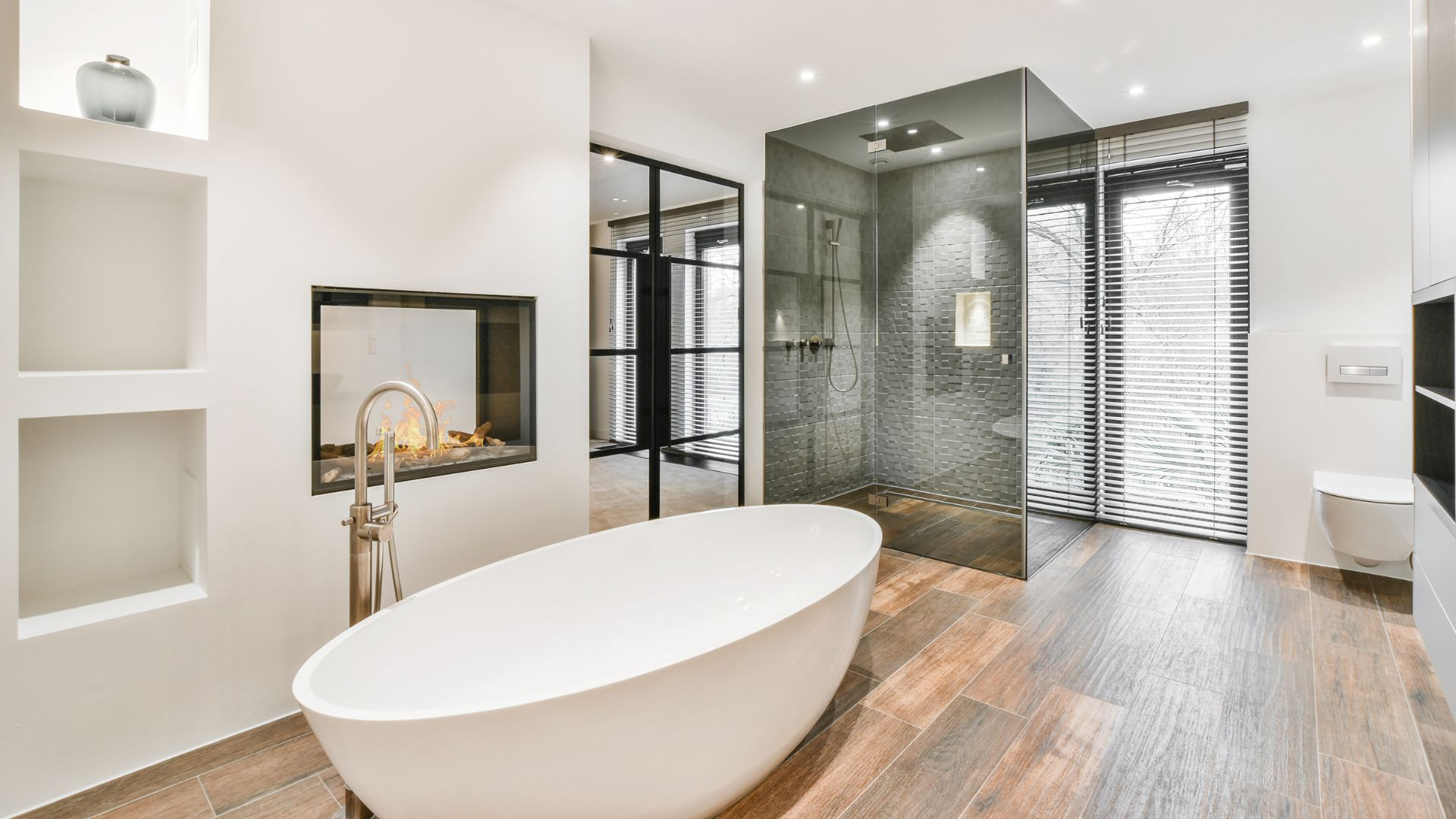 When it comes to a bathroom remodel, costs can add up quickly. Many factors contribute to the total expense of bath remodeling, from demolition and labor fees to materials and finishes. But what are the most expensive parts of a bathroom remodel?
One major cost is installing a whole new toilet, walk-in shower or bathtub walk-in shower or new bathroom. The plumbing behind this one project cost can involve significant demolition work as well as rerouting pipes if they need relocation.
Another costly aspect tends to be full bathroom remodeling projects' higher-end materials such as large stylish tiles for flooring or walls, high-end fixtures (e.g., sinks faucets), custom vanities with extensive storage capacity features like drawers rim locks which tend 'push up' (in terms of price point) over off-the-shelf alternatives.
Finally, another prime contributor when it comes one day to the DIY bathroom remodel cost calculator and specifically calculating Diy Bathroom Remodel Cost Calculator is other factors outside but related to the general contractor on duty. This includes creating spaciousness via knocking down dividing walls after assessment by structural engineer analysis conducting the installation of ideal ventilation solutions and lighting according to building codes – not only good-looking design guidelines but building codes – maximizing space compromising safety measures essential too!
Style and Finish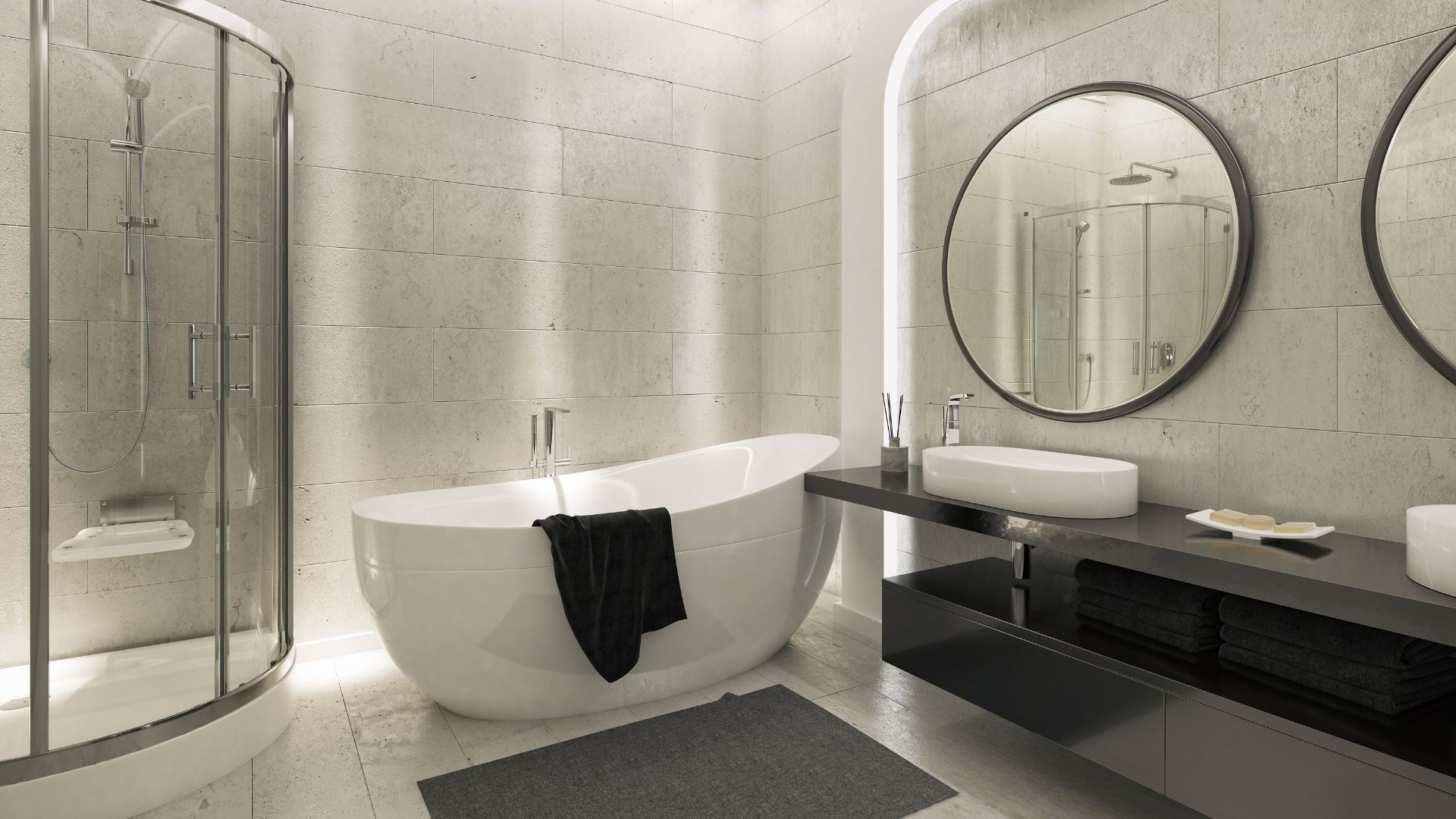 When it comes to a bathroom remodel, one aspect that can significantly impact its overall cost is the style and finish. The choice of style will ultimately come down to personal preference, with popular options ranging from modern minimalism all the way through retro charm. In terms of finishes, there are many choices available on the market today such as matte or high-gloss surfaces for walls tiles, and countertops.
While choosing more stylish materials like a natural stone might make your space look amazing; however, you have to consider factoring in their higher costs compared with alternatives-like porcelain tile- when setting up your budget plan if remodeling on a tight budget!
So whether you prefer sleek black-and-white lines that bring out every curve beautifully since sharp angles catch both light-play well too -or warm brown accents bringing old-world baroque atmosphere back into vogue-, remember: bigger decisions about design direction should be made early on.
Hiring a Contractor or Designer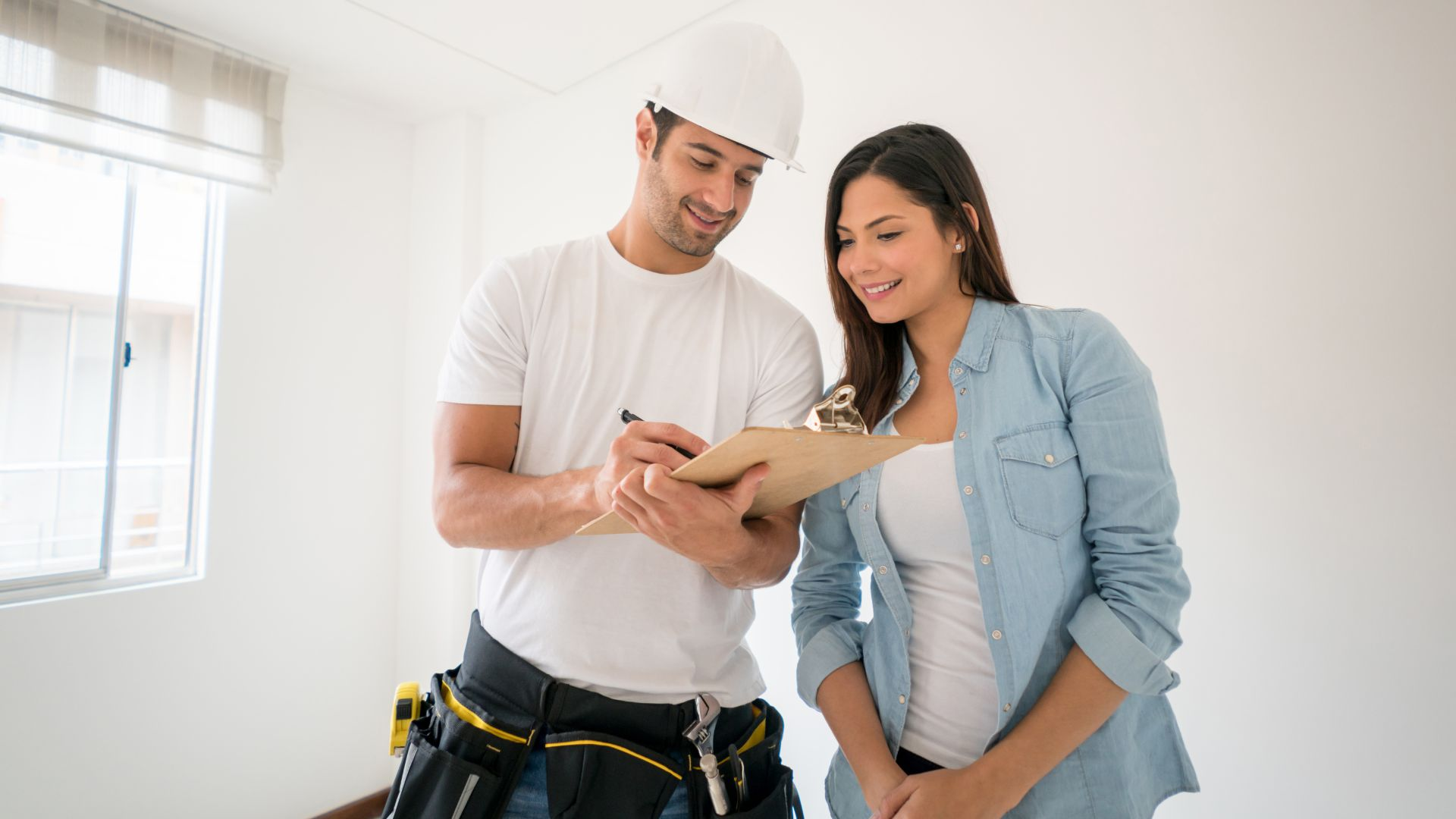 When planning to remodel your bathroom, you may be tempted to do it yourself in order to save money. However, the reality is that bathroom remodeling costs can be complex and there are many variables involved such as permits needed from local authorities will not make sense without having prior knowledge about them.
To ensure your project runs smoothly and efficiently while maintaining the safety standards required by law; hiring an experienced general contractor or designer is necessary and highly recommended. A professional general contractor, who understands all aspects of construction can help guide you and the professional contractor through each step of the process so that nothing goes wrong unexpectedly.
It's important to hire a professional contractor, someone reputable like those certified by Bath Association or National Kitchen & Bath Association (NKBA), which confirms their professionalism and adherence to industry standard practices when handling clients' projects whether big or small alike.
Aesthetics play a huge role too! When choosing designs consider remodeled bathrooms examples available in magazines websites and more. Moreover, one-day bathroom remodels companies have had success lately rapid due to existing layouts.
The total project cost associated with hiring contractors and designers depends largely upon multiple factors including geographic location expertise experience materials used time frame chosen, but rest assured this investment will pay off long term since they know how to get the job done right the first time around!
If budget constraints prevent accessing professionals from using virtual kitchen countertops tools might come in handy now would see output beforehand deciding the next course of action.
Conclusion
If you're tired of how your old bathroom looks, it's high time to get on that bathroom remodeling project you've been thinking about. Keep yourself prepared financially, check the latest find a good contractor and get your dream bathroom.
For your free quotes and designs, feel free to call our office today or visit us on Yelp.